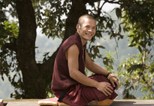 IshqInABackpack.com
My husband and I originally created our travel blog –IshqInABackpack to keep our family updated on our six-month backpacking honeymoon through India. But we had such a great time, we decided to continue our adventures, even with a baby! Want to watch an interview with an iPod-toting Tibetan monk? Or check out pictures from our ice-climbing adventure in the Catskills last month? Check out photo galleries, audio slideshows, videos, blogs, and articles from my honeymoon adventures — past, present and future — with my writer-photographer husband, Navdeep Singh Dhillon.
CAKE Literary is a boutique book packaging company with a decidedly diverse bent. Founded by Sona Charaipotra and Dhonielle Clayton, it focuses on bringing fun, high concept and delicious reads to the market for readers of YA, middle grade, and women's fiction. Find out more about CAKE Literary and how to submit on the CAKE website.
A screenwriter whose work has been developed by MTV Films, I earned my Master's in Dramatic Writing and South Asian Diaspora Studies from New York University in 2006. I've got several projects under my belt and have worked as a script doctor and writing coach. Contact me for rates.