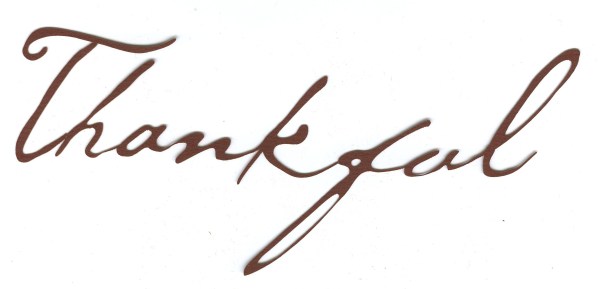 This week, as we all gather our loved ones and our thoughts to give thanks for all the love and luck we've received this year, it's worth taking some time to look back and really take stock.
Every Thanksgiving, to do just that, I create "a reverse bucket list," kind of the opposite of an actual bucket list, which is a rundown of things you'd like to accomplish before you kick the proverbial bucket. The reverse bucket list takes a look back at things that you've already done and are proud of — goals achieved, moments worth reliving, the idea of gratitude for the here and now and what you already have.
So this year, again, I offer up a few a few things that make my reverse bucket list. I'm sure there are more to come:
-Kavya, my beautiful, smartie pant, sparkly-eyed daughter. In the past three years, she's become this unique, quirky, funny, larger-than-life little character.  The things she says and does never fail to astound me — she's so smart and so cute and so charming. She's simply amazing. These first three years of motherhood have been as exhausting and as fulfilling as any I've ever had. I can't wait to see what comes next — especially now that Navdeep and I are expanding our sweet little trio into a quartet! It'll be really fun and fascinating to see Kavya in the role of big sister, and to learn just who our new addition turns out to be.
-My husband Navdeep. I've never met a smarter, sweeter, sexier man, and I'm so glad that we managed to find each other, despite startling odds. I'm so lucky to have a partner who gets me on so many different levels, who makes my goals his goals, whose brilliance startles me even after all these years. And in the past two years, we've gotten to learn about each other on many new levels — as parents, as writers, as partners. I'm also so proud of him for pursuing his passion, really starting to shape his voice and make a dent in that novel he's been writing. I can't wait to share his voice with the world. As someone once told me, he's a keeper.
-My family, a boisterous, incredibly fun bunch whose unconditional love and support has been both my safety net — and the reason I've felt I can venture out onto paths unexplored. My stylish, smartie pant sister, my artist brother, my mother, who taught me what a mama should be, and my dad, who came to this country more than 30 years ago with a goal — to make his little family's life better. My extended clan in California, who keep in touch via Skype, frequent visits (including one next week) and Kavya's super-fun stories about "two sisters, Joshvir" and usually a dragon. Yay! We have so much to celebrate!
-The life-changing six-month honeymoon adventure Navdeep and I took in India — and IshqInABackpack.com, the site wre we've managed to document some memories we made. The trip altered the way we looked at each other, and ourselves. It took me off my tried-and-true path and into new territory. And we're having new adventures all the time! This year, we managed to add a few small adventures — including Kavya's first trip to Disneyland (and mine too!).
-My decade at People magazine. As crazy and stressful as those years were, they were formative in my career, and made me the writer I am today. They also afforded me a luxury that few writers have these days — the ability to earn a real living from home in my pajamas, writing about things I'm really interested in.
-Freelancing. I couldn't have asked for a better day job. It's fun and focused, entertaining and explorative. It leaves me enough time to spend with my little family, and it allows me the leeway I need to focus on other goals — like fiction.
-What I learned from my class at the New School. I didn't realize how much I needed a writers' community until I found one. And I'm glad I got this particular bunch. They share my passion, my ambition, my goals. I've found in them the support I need, and the right to take writing seriously for once in my life. Six months after graduation, this little peer group I've found continues to persevere — and to astound me. I hope we'll be working together, both commiserating and celebrating, for years to come.
-Speaking of the New School, I can't ask for a better business partner than Ms. Dhonielle Clayton, my partner-in-crime since we met on the first day of class. She definitely kicks my butt and keeps me in line — and I wouldn't have it any other way. Together, we co-founded CAKE Literary, a boutique lit development company — and after two years of hard work, we finally saw it pay off with the sale of our first book. We're expecting even bigger and better things in 2014 — and we're thrilled to be able to bring diversity to teens and kids everywhere in book form, because we definitely felt the lack of it in the books we both read growing up. So YAY Cake! I'm gonna get me a big ole' piece in 2014!
-Writing. In whatever form it takes — screenplays with Meena, blog posts about Kavi (which I'll keep for her to read when she's older), those nearly complete novels (seeNew Year's resolutions post!) or those countless emails Navdeep and I exchanged back in the day, unraveling our life stories. Writing has been my form of analysis, of catharsis, of revelation. I'm glad it's the path I stumbled upon and decided to follow.
That's just the start of my reverse bucket list — there are countless other things I'm thankful for this year. Stay tuned for resolutions! You know they're coming!
What tops your list this holiday season?