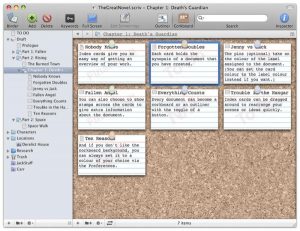 Let's face it. Technology can be a major time suck — especially if you're like me and not super adept with it in the first place. But occasionally, you'll trip over an APP that might just make your life easier. I've found a couple of these over the years, via friends or my husband, who magically updates my computer with stuff when I'm puttering around the kitchen or watching Days of Our Lives.
Herewith, a few of my favorites.
Scrivener: It seems like this should be considered actual software, but hey, I downloaded it from the APP store, so I'm counting it here. The ultimate in writer apps, Scrivener is like a modern-day, uber-sleek take on the typical word processing software, with fun capabilities like folders for chapters that you can just rearrange however you please and a bulletin board for brainstorming, plus a place to store notes and a compiling capability that makes your manuscript look all fancy and official. There's a learning curve here for sure — I've been using it for months and have yet to really go exploring (because, let's face it, I'm scared) — but it's well worth trying even if you're tech-challenged like I am. $45.
Wunderlist: This is a really neat way to track all your to-dos all in one place. I've got separate lists for fiction and freelancing, home stuff and fun times. It let's you put things on your schedule, set a due date and send yourself a reminder, plus share tasks with others via email. There's even a spot for your movies-to-see, a shopping list and a Wishlist of things you're a hopin' for. The best part? Why, checking things off of course! Get the free version!
Pomodoro App: A classic productivity timer, Pomodoro clocks your tasks at 25 minute intervals, giving you a 5 minute break in between, until competition. You can use it online or download the actual app, which will track your tasks even when you're sans WiFi. Pomodoro, too, allows you to divide tasks into multiple to-do lists and also let's you set a deadline and reminders. Get the free version!
Mac Freedom: You know you're a procrastinator if your husband has to actually go and download this APP for you. (Yup, that's me.) Mac Freedom is scarily useful in that it disables your computer's WiFi access for a set amount of time, ensuring that you can not get on the internet to dilly-dally when you should be writing. Sigh. Very necessary. However, I'm still too weak to try their latest — Anti-Social — which blocks your access to time-suckers like Facebook and Twitter. $10 for Mac.
Crashplan: Another miracle my husband discovered for me, Crashplan quietly, efficiently backs up everything on your precious computer around-the-clock, ensuring that your writings are safely kept as you sleep or eat or whatever it is people do when they're not writing. Paired with a Time Machine or hard-drive back-up, Crashplan offers writerly peace of mind. Plans start at only $2 a month!
What's your favorite APPs for writers?