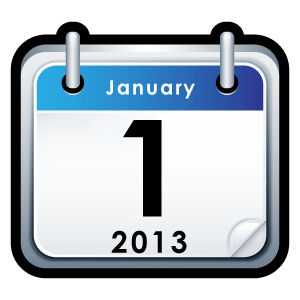 So here I sit again on January 1.
Another year, another resolution, right? You knew it was coming. It's always inevitable — and then I inevitably break it. So this year, my resolution is not to resolve at all, but rather to evolve. It's time to give up the gung ho race to the finish line and reassess what might actually work for me. After all, I'm in this writing thing for the long haul, right? Not just for the quick sale and the even quicker burn out.
I've often lamented here about my dilettante ways, how I'm always juggling three projects at once, rushing to get things done — and therefore not really moving forward at all.
So this year, I've decided to really focus. Focus on what my big picture goals are, focus on getting things done — but really, to focus on slowing down the pace, enjoying the process, and therefore actually managing to finish my projects, one at a time.
I've also decided to not jump into the querying process after I finish the first project, which is already quite near completion. Many of my fellow writers don't understand the why behind this, but I just have to keep reminding myself of my long-term goals, rather than the short-term impatience — and believe me, I'm amongst the most impatient people I know. As a writer who works in two different genres, I'd like to be well-prepared, when seeking representation, to have a completed project in both areas, so that I can find an agent who really knows what she's getting into, who really understands what my work is all about, who really sees the same big picture I'm seeing.
In the meantime, now that I have my lovely (if petite) desk and my awesome peacock blue velvet tufted chair to return to in a few short days, I do want to make one real, tangible plan-of-action and stick with it — and that is to put my butt in said gorgeous peacock blue velvet chair and spend some quality time with my WIPs at least five days a week. I won't set unattainable word counts or ignorable deadlines. Instead, I'll take my time, keep those eyes on the prize, and remember, for once, that the only person I'm racing is myself.